Description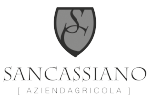 The vineyards of San Cassiano are located in the Mezzane Valley of Valpolicella. Alternated with fruit and olives the 10 hectares are divided into 20 vineyards within the little green paradise of the Mezzane Valley slopes.
The area is not very urbanized and it is free from industrial entrerprises. Therefore there is a perfect synergy between humans and nature with the development of the agricultural sector. The ground of these steep hills is composed of white marble called "biancone". This type of soil was originally seen as poor but after being worked for centuries people learned and took advantage of its benefits to reach a perfect terroir for excellent wines.
Grapes are left to ripen during the summer months and then put on a framework where the warm weather increases the natural sugars and the organoleptic intensity of the fruit, helping it to reach great concentration of flavour.
The native vines of the Mezzane valley are Corvinone, Corvina, Rondinella, Molinara and Oseleta, which are protagonists of our wine production. Mirko Sella produces elegant wines consistent with tradition but produced through a young philosophy and a modern vinification of their estate which is based on respect of an ancient and unique terroir and a careful selection of grapes.