Description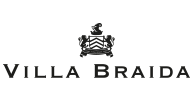 The construction of the Villa dates back to the 1800's on behalf of a wealthy French family who arrived in Italy and who, with the help of Count Emilio Ferdinando Braida, settled in Mogliano, Veneto between the splendid cities of Venice and Treviso.
Currently Villa Braida is owned by the Zuin family whose will is to combine the passion of hospitality with the oldest of the wine, taking inspiration from the lands that surround it. In fact, thanks to its strategic position, Villa Braida is located in the heart of the production area of Glera grapes with which the best known Prosecco Doc is produced.
Among the most ambitious projects by the Zuin family, the most important will be the restoration of the old vineyards that surround Villa Braida and then aspire to the construction of the cellar used for the storage of Prosecco Doc.
Behind big projects there must always be people who are prepared, experienced and above all able to fully meet the needs of customers and consumers. Winemaker, Enrico Marcato will be undertaking the technical and commercial side of the Villa Briada project while Alessandro Zuin will use his expertise in hospitality and communication to conduct the marketing and publications side.