Description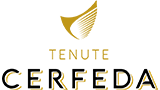 PRODUCED ENTIRELY FROM GRAPES GROWN IN THE HOT SUN OF SALENTO, BOTTLED AT SOURCE AND IN THE PRODUCTION AREA, THE ORGANIC WINES OF TENUTE CERFEDA DELL'ELBA ARE BORN FROM AN ACT OF LOVE.
LOVE FOR QUALITY, LOVE FOR GENUINENESS, LOVE FOR WISDOM OF AN ANCIENT LAND, WHERE THE WINE IS FIRST OF ALL NOURISHMENT FOR THE BODY AND FOR THE SPIRIT.
IT'S BECAUSE ALL OUR WINES ARE VINIFIED USING ONLY PLANT-DERIVED SUBSTANCES, ACCORDING TO THE INSPIRATORY PRINCIPLES OF HOLISTIC AGRICULTURE, THAT OVER TIME DEFENDS BIODIVERSITY AND PRESERVES A SUSTAINABLE VITAL SPACE FOR MEN, ANIMALS AND PLANTS.
SINCE 2020 IN TENUTE CERFEDA WE TAKE ADVANTAGE IN WORKING IN THE VINEYARD BY USING PRECISION AGRICULTURE THAT SUPPORTS THE ENVIRONMENT WITH SKYDRONE360. WE CHECK THE VINEYARDS HEALTH AND FOLLOW THE CORRECT GROWTH OF THE PLANTS WITH PERIODIC CHECKS BY USING DRONES WITH MULTISPECTRAL SENSORS AND LATEST SOFTWARE. THANKS TO MONITORING UNITS WITH LATEST GENERATION SENSORS, PLACED IN THE VINEYARD, WE PLAN TARGETED ACTIONS IN A PREVENTIVE MANNER AND WE SUPERVISE THE INSECT ACTIVITY. THIS RICH DATA COLLECTION MAKES EACH ACTION TRACEABLE, WITH GREAT BENEFITS FOR GRAPE QUALITY AND CERTIFIED PRODUCTS.
THE WINES OF TENUTE CERFEDA DELL'ELBA ARE PRODUCED AND BOTTLED IN PUGLIA, SPUR OF THE BOOT OF ITALY AND "LAND WHERE THE LAND ENDS". ITS LANDSCAPE EXTENDS OVER 300 KM, ALONG THE ADRIATIC COAST AND TO THE IONIAN SEA.
THANKS TO ITS GEOGRAPHICAL LOCATION, THE FLAT COASTAL LANDSCAPE AND THE WARM CLIMATE, THAT SINCE ANCIENT TIMES THE REGION HAS ENCOURAGED HUMAN SETTLEMENT, TRADE AND CULTURAL EXCHANGE, BECOMING ONE OF THE OLDEST WINE.
THIS LAND OF RED EARTH,FERTILE,AND IT IS MAINLY COMPOSED OF LIMESTONE, CLAY, SAND AND TUFF WHICH COVERS AN AREA OF ABOUT 40 HECTARES AMONG VINEYARDS AND OLIVE GROVES.
SPANNING OVER AN AREA OF MORE THAN 245.000 ACRES, APULIA IS THE MOST PROLIFIC WINE REGION OF SOUTHERN ITALY AND ITS VINE VARIETIES ARE MAINLY LOCAL.
FOR THIS REASON, AND DUE TO THE FACT THAT IT PRODUCES MORE WINE THAN ANY OTHER ITALIAN REGION, APULIA IS CALLED "ITALY'S WINE CELLAR".