Description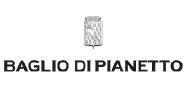 Baglio di Pianetto stems from the desire of its founder to create a wine that celebrates the uniqueness of the Sicilian Terroir through the 'savour fair' of the great French chateau.
A challenge born out of the love for the land and its fruits which since 1997 has pushed Count Paolo and his family to innovative and daring choices, in full respect of territorial identity. Today, the second and third generation work alongside the founder in his endeavour with the same devotion and enthusiasm.
The wines are made with the idea of producing fresh wines with strong Sicilian connotations keeping the focus on the quality and sustainability of the production process. This plan seems quite achievable when using native grapes so the family started a project using some French grapes planted in Sicilian soils for a unique taste.
The estate comprises of two sites; Pianetto – 650 metres above sea level and Baroni – 50 metres above sea level. Each site has been selected for their diverse climatic characteristics that allow cultivation and the full expression of each grape variety.